Reaching 30 has finally sunk in, and I've realised it aint all that bad. It's just a new phase of my life which is beginning -an awesomer one.
Of course, I celebrated "SpaceFairy style" -with costumes, climbing trees in costumes, and latin dancing. Some friends and I took over part of Roma Street Parklands for a "Fairytales & Fantasy" themed birthday party, catered for by my fabulous mum and her awesome food creation skills.
Less than half the people who said they'd show up actually did, so we massively over catered, but I had a fun time with good friends nonetheless, and some homeless people were fed fairytale food that night. I guess the thought of dressing up and frolicking in the park just excited some people more than others. That, and Armageddon Expo was on in Sydney, so most of my cosplay folk were at that. Guess I can't compete with meeting mega celebrities  from film & TV ;D
I topped off the night by dressing up in an even bigger and brighter costume, and dancing in a Rio Carnival-inspired samba parade, where hundreds of us blocked off the main street of West End, while shaking our booties to the fabulous drummers and capoira guys. After that I did my annual birthday dance back at the dance studio, where I zouk-lambada'd with about 10 different guys, in front of hundreds of spectators.
Way to celebrate my 30th birthday! May my new life now begin…
30 cool things I've accomplished before turning 30 (in no particular order)
People who've only known me for short time may think I'm a bit of a bum, since I've been in "holiday and life restructuring mode" after graduating from uni. But what I may lack in full time employment in an ordinary job (suckers) I make up for with awesome activities and unusual accomplishments, which the average person wouldn't achieve half of in their lifetime. I guess I'm just wired differently. I don't want a boring life- you'll get over it. Here are some of my notable achievements and experiences in life thus far…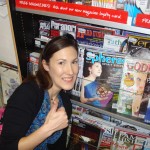 Played a skanky whore in the movie "Moulin Rouge" (starring Nicole Kidman)
Hung out with Tom Cruise on the Set of "Mission Impossible 2" where I was a film extra
Had my name engraved on a NASA data disc, then blasted into space, headed for the Red Planet. Apparently now it's on Mars somewhere, waiting for future generations (or extraterrestrials) to dig it up.
Survived a debilitating chronic illness where I was bedridden and homebound for most of my teenage years. Although it definitely wasn't cool, the surviving it was.
Appeared on the front cover of a magazine (Spheres: The Spirit Guide) in which was also published my feature article (The Subtle Art of Bending Time)
I had my own regular magazine column in a national magazine
Danced "Thriller" with a bunch of zombies outside the Brisbane Casino to raise money for charity ("Thrill the World" 2010. I was the zombie-fairy-princess)
Moved to a new state (Queensland) where I didn't know a single person, with only a suitcase of stuff, and not much money. (THAT takes guts!!)
Was a contributing author to the Spheres "Angel Wishing Kit"
Completed a bachelor of Creative Industries (Interdisciplinary) at QUT (which I started as a mature aged student, and overcame numerous health and personal difficulties to finish)
Started my own business ("Website Wizardry" – currently on hiatus)
Was mentioned in international best selling author Doreen Virtue's book "Goddesses and Angels" (I'm on page 186- I had the freaky dream on entrainment)
Taught myself to sew and create awesome costumes, using my natural creativity, online tutorials, YouTube videos, and interstate video Skype sessions with my mum
Was engaged twice. It was a cool thing that I DIDN'T get married back then!
Spoke onstage in front of thousands of people while volunteering on one of author Doreen Virtue's Australian book tours
Helped to set up one of the first "EB Games" stores in Australia
Being a shining, inspirational example to thousands of people
Rediscovering my hidden psychic and spiritual gifts, and using them in very cool ways that would freak out the average person if they knew half of what I've experienced
Becoming a network marketing superstar-in-training, and being recognised on stage in front of hundreds of people, including half the team members of the Gold Coast Titans- and having them applaud me.
Survived living with 5 rowdy boys who were friends with the girls from the local strip club- whom I occasionally found dancing in my kitchen late at night! (Yeah, they taught me some moves)
I've lived in 3 different states of Australia (NSW, ACT, QLD)
I enjoyed the highlife while living part time at Mermaid Beach on the Gold Coast- surrounded by multi-million dollar mansions, and living directly across the street from one of the most beautiful beaches in the world!
I have met over 50 "celebrity" actors, actresses, and inspirational people, and I have built up an impressive autograph and photo collection over the years
Helped a bunch of 70 year old grandparents who had never used a computer before and didn't even know what a mouse was- to set up their new computer and connect to the internet… over the phone (I'll tell you, that takes much skill and patience) They are probably now addicted to World of Warcraft as we speak lol
Been a member of a white-light witches' coven
Gave professional Tarot, Angel Oracle Card , and Angel Intuitive readings to hundreds of people, and gained a reputation for being really good at it
Got baptised and became a mormon! That's right, I'm now an official member of "The Church of Jesus Christ and Latter Day Saints"
Been interviewed on the radio- and totally kicked ass at it
Got my first book publishing contract
Became an award- winning* costume designer and cosplay artist (*Not very big awards, but awards nonetheless lol)