Supanova Pop Culture Convention report Brisbane 2012 …SpaceFairy goes to Supanova!
Part 1: Day 1 (Intro to "D-Day" Friday, and B-Grade Movie Maniacs!)
B-Movie Maniacs [Actress Laurene Landon, Cassandra "Elvira" Peterson, Australian Director Michael Spierig]
Let's Sing…There's Zombies Outside! (A Zombie musical I can't wait to see!)
Comic Book MasterClass with the scary-yet-talented Howard Chaykin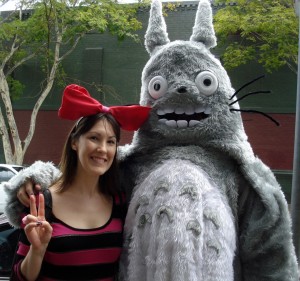 Each year I go to the Brisbane Supanova Pop Culture Convention (usually in some crazy costume), and every year I intend to write a report for this blog as I go. Sometimes I even take notes. But we all know how much of an epic failure I am when it comes to actually doing stuff. I blame undiagnosed ADHD, shiny things, and thoughts about kittens…
Back at uni, in journalism class, they taught us it's best to report on things while the event is still fresh in our minds.  The more dedicated journalist or blogger might go home and write about their experiences that night. But historically, for me anyway, Supanova weekend evenings are dedicated to last minute stressing about finishing the following day's costume, usually until something like 3am… Lack of sleep is all part of the "Supanova experience" for most cosplay enthusiasts…at least for the ones who make their costumes themselves (tsk tsk).
Supanova Fridays are traditionally known as "Directors Day", and are a chance for local film buffs to attend industry seminars where they can meet and ask questions of visiting filmmakers and other filmy-actory-arty-type-special guests.
The crowds also aren't as busy on a Friday, due to it being technically part of the traditional workweek. So it's also a great time for shopping, while seeing all the cool stuff for sale in the exhibitor's hall before the hungry weekend crowds descend. And it's an excuse to take the afternoon off work.
One of the best reasons to go on a Friday though, is to get your 'Supa Fun Pass' entry wristband. Even the prepaid lineups on the weekend are normally several blocks long. Visiting on the Friday night to grab your prepaid wristband can honestly save you up to a two-hour line-up the following day/s.  All the cool people in the know waltz straight through on a Saturday and Sunday morning. And when you consider the Summer heat in Brisbane, that alone is worth paying a bit extra for a 3 day pass!
This year, I only cosplayed for 1 day (where I did "Vampira" on the Sunday for our award-winning Tim Burton-themed-movie group). So I actually had the spare time to attend D-Day this year. It was pretty epic!
First up on the list- a panel on making B-Grade movies, featuring actress Laurene Landon, Australian director Michael Spierig (of 'Daybreakers' and 'Undead'), and the Mistress of The Dark herself, Cassandra "Elvira" Peterson.
I found it particularly inspiring that Cassandra was 30 years old when she 'became' Elvira. Just prior to that, a prospective agent had told her that she was a washed out actress and should get out of show business. Ha! In your face loser agent! See- struggling actors and other awesome creative people- there is hope for us yet.
I learned about three "essential elements" of any good B- Movie:
Audience identification (something the audience can relate to)
Sex, drugs, blood…
…and cross-dressing helps 😉
Best advice for those planning a filmmaking or acting career?
Michael Spierig– "Practice! Make a lot of short films…learn as much as you can about everything from acting to set design…make lots of mistakes"
Cassandra "Elvira" Peterson- "Sleeping with the director doesn't work…also, persistence! Don't give up…"
Laurene Landon- "Having a passion for acting isn't enough. Everyone has 'passion'…every waiter who wants to be an actor has passion…but what are you doing about it? …Also- Passion, Perseverance, and Prayer –the '3 P's'".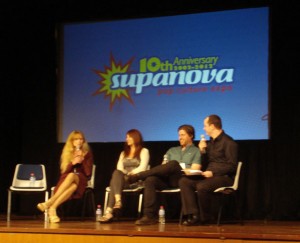 What were the highest and lowest points in your career?
Michael Spierig- High: Getting a U.S. distributor for his first low budget feature film 'Undead'. Low: Other projects that fell through.
Cassandra "Elvira" Peterson- High: working on the feature film 'Elvira-Mistress of the Dark'. Low: Lots of lows! (See earlier story about the silly agent). Combined High/ Low:  The same day Elvira' premiered, the company who funded it went bankrupt, so the movie only ended up being released into about 300 cinemas. (It's ongoing status as a popular cult film is pretty great though!)
Laurene Landon- High: working with Larry Cohen, and her long lasting friendship with his wife, with whom she shares a sisterly bond. Low: Her father's illness, during which time she took a 16 year hiatus from acting to care for her ailing parents.
Coming soon in my Supanova report Part 2…
"Let's Sing…There's Zombies Outside!" (A locally produced Zombie musical that I can't wait to see).
"A Comic Book Masterclass" with the scary-yet-talented Howard Chaykin, and some of his advice for aspiring comic book creators.
Stay tuned!